So you want to go to veterinary school? Not sure where to start? Here's some tips to help you prepare: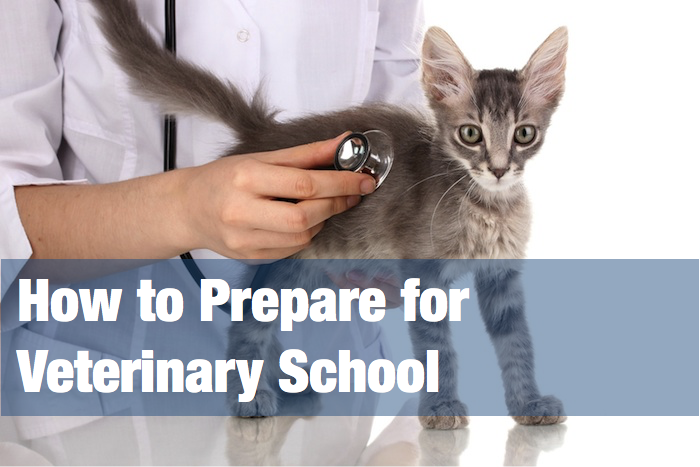 Make Sure You Have The Prerequisites
Check the program details for the schools you are interested in applying to, and make sure to take any pre-vet courses they require. In high school, focus on taking courses in biology, chemistry and physics. After high school, some pre-vet courses may be required such as additional biology, chemistry and physics, as well as mathematics, genetics, and more. Spare yourself the hassle of having to take extra courses or semesters by being aware of all that's required.
Get Involved
Practical experience is highly valuable for developing an understanding of the veterinary profession. It's also a key element of your vet school application. Volunteering at an animal hospital or local shelter is a great option, as it will also help you determine whether the veterinary career is the right path for you. Non-veterinary animal experience is also helpful. You may also need veterinarian connections to provide a letters of recommendation, so volunteering will be helpful in building your network.
Getting involved in campus clubs and other extracurricular activities is also highly recommended. These can provide you with the opportunity to gain leadership and teamwork skills, and to expand your network of peers.
Start Early
The early bird gets the worm, and into vet school. Start working on your application as soon as you can, including obtaining your references, to avoid any last minute issues or panic.
Prepare Yourself Mentally
It is important to make sure you have an understanding of the veterinary profession and all the good, bad, and ugly that comes with it. Talk to practicing veterinarians about what they like and dislike about their career, or read online about what other people have said. There are some hardships that many veterinarians face, including frequent hard decisions and significant student debt, so make sure this is a path you are ready to take.
Just because you graduate a veterinarian doesn't mean that you'll become a practicing veterinarian either, so be aware of some of the exciting alternate career paths a veterinarian might take.
Vet school can and will consume all your free time, stress you out, exhaust you, demoralize you, inspire you, delight you, and change your life forever. Make sure that this is the path that you want to take, and be ready to work through the tough times and keep pushing through.
---
EasyAnatomy is an interactive 3D canine anatomy study guide that helps veterinary students spend less time studying, and ace their exams. Get a head start on your veterinary anatomy knowledge, and try it free today!