As the clocks tick forward to the coming months of fall – there is one thing on everyone's mind, it is back-to-school season! While in the last year the world grappled with the bellows of the global pandemic, the acceleration of the use of technology in our lives is now seen as inevitable. Even before the pandemic, technology was a relied upon friend for many however, the pandemic showed us that technology is a strong ally. The current material of study – be it 2D formats, physical books are no longer seen as effective methods of study and engagement. Personalized learning on demand is sought after, especially in the dynamic space of learning.  
That's why EasyAnatomy makes it Easy for educators around the world to bring their materials to their students in a very engaging manner.  
Myth Busters – what about technology?

 MYTH – Technology will replace me!
Absolutely not! Technology is an additional tool in the professor and educator's toolkit to help them deliver their vision and meet their goals efficiently. While staying in touch with the students' learning expectations, technology helps the educators deliver material to their students both in an engaging and effective manner. In the journey of encouraging students to pursue their talents, technology provides a major avenue. Technology will not replace educators; it is a communicative bridge that helps with delivery of an engaging learning experience. EasyAnatomy is an educator's friend, aid and ally in digitally accelerating educators their teaching experience and their student's learning experience.   
 MYTH – Technology is stressful
Nope! Technology can help fight stress. It increases your performance, boosts your confidence, and helps with efficient delivery. Keeping in mind the mental health and well-being of our educators, technology helps tackle daily struggles effectively. At EasyAnatomy, our technology is easier to use than you think and there is immense support from our team to help set you up and get you through the entire journey. So, no stress of set-up, no stress of technology use and no stress of adapting – technology makes it easy, and EasyAnatomy makes it even easier for you.  
 MYTH – Social connection barrier
Not at all! If there is one thing, we have all learnt the last year, it is this – the show must go on. No matter where we have been, we have seen the digital expansion from courtrooms to boardrooms. Virtually, connections have been made accessible and easy. We live in the days where we bring our work to our living rooms. Students and educators now have a chance to cut through the virtual window and engage in real time across continents and time zones. In this learning beyond university and classrooms – EasyAnatomy provides a robust way to engage in educational content and bring together the brightest minds to the learning forum.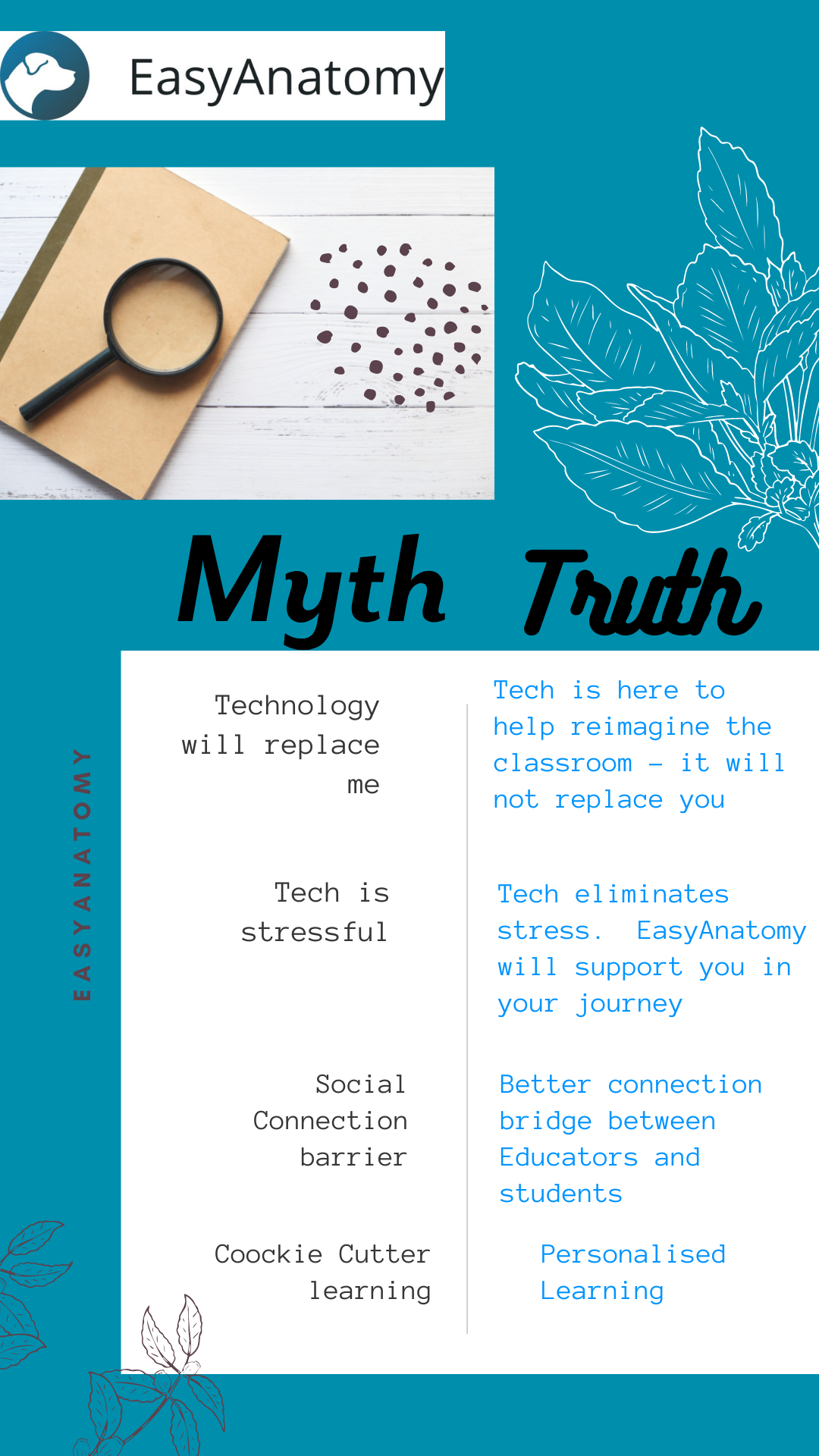 MYTH – Cookie Cutter learning
100% Myth – in today's highly personalized world, the new forms of teaching with mixes between hybrid learning and online and or in person learning offers a highly personalized experience. There is high demand for personalized results and learning techniques. 67% of teachers agree that learning needs to be personalized (ConnectEd 2021 by Microsoft). While instilling creativity, EasyAnatomy appeals to students from a creative learning and personalized nature perspective.
All we are saying:  
As the world pivots into a more digital space, the last 15 months has accelerated our dependency on technology and primed us for a digital world. With the educational industry taking a larger step within the digital bubble, are you ready to explore with EasyAnatomy?  
EasyAnatomy offers educators with multiple tools within the app to help achieve their teaching goals and deliver the content to their students in the most efficient manner. From bookmarks and annotations to intuitive navigation of built-in tutorials, there is AI that helps ensure that students are learning and understanding their material instead of sliding through the content. Offering a pedagogy component of book knowledge and practical experience we use 3D models based on real MRI and CT scans.  
Transforming into the technological world – EasyAnatomy helps you reimagine the classroom materials like never before. Remember technology is not here to replace you, it is here to stay and help your reimagine learning.