"In educational theory there is the idea that assessment isn't just for assessment… it should be a learning opportunity too"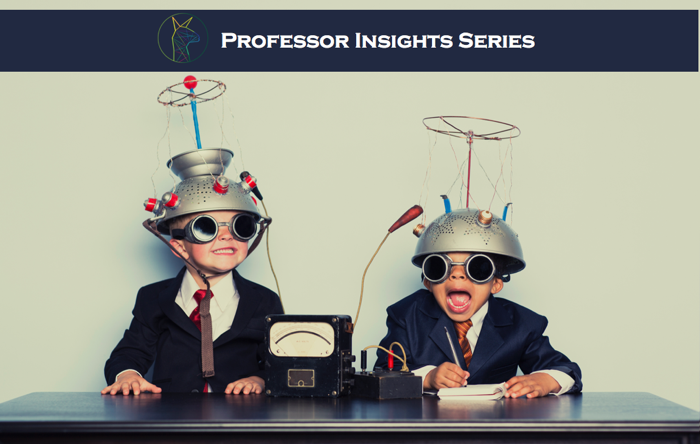 For many students, the word "quiz" brings rise to feelings of dread, anxiety and panic. We believe that quizzes can instead be enjoyable, adapt based on an individual's comfort and confidence, and be a go-to tool for mastering content. This is what we had in mind when we set out to create our gamified adaptive quizzing engine, and it is the vision we share with the anatomists who are meticulously crafting EasyAnatomy's quiz questions.
This post is the third in our "Professor Insights" series, and focuses on how EasyAnatomy's quizzing system enables students to further leverage the app's content to develop deep and lasting understandings. LlamaZOO's team of anatomists: Dr. Terri Clark, Dr. Susan Dawson and Dr. Corinna Klupiec, share their thoughts on their methodology in creating quiz questions, how these quizzes compare to currently available resources, and why they believe EasyAnatomy's quizzing can be a valuable asset for veterinary education.
How did the anatomist team decide on the overall strategy behind EasyAnatomy's Quizzing?
Dr. Dawson: Quizzes can be powerful tools for learning, and the quizzes were built using principles from educational research in order to help users work with the material to develop understanding.  
Dr. Klupiec: The type of feedback provided on the questions is influenced by the nature of each individual question. Some questions lend themselves more to formative feedback, others to a more direct feedback style. The end result is that we've created is a mix – feedback for some questions is designed to make students think further (give clues as to how they might figure out correct answer), while other questions are structured so that the feedback provides the answer.
Dr. Clark: We are developing quiz questions that test not only knowledge, but also application. Some questions are very basic and foundational, some are relational and some are applied.
Dr. Klupiec: To some extent, the nature of EasyAnatomy determines the style the questions are written, in that because the student can see the model while the question is asked, each question has to be asked in a particular way so to not give away the answer too easily. We want the quiz questions to be sufficiently challenging, while still answerable using the 3D model and written content.
Dr. Clark: We provide feedback for all incorrect answers, but the type of feedback differs according to the type of questions we are asking, and "feedback" doesn't always mean that we provide the correct answer. In many cases we want the student to be forced to reason why what they selected wasn't correct, and to come up with the correct answer on their own.
Dr. Klupiec: Every question can be segregated based on degree of difficulty, region of the body, or structure, and the professors are in control of selecting which questions they would like to be included in each quiz.
Dr. Klupiec: Overall we tried to prioritize formative assessment. EasyAnatomy encourages learning, and formative assessment is like learning by assessment. In educational theory there is the idea that assessment isn't just assessment (i.e. a way for teachers to determine a student's level of knowledge), it should be a learning opportunity too, and that's why I feel the formative style is ultimately more rewarding for students.
How do the Quiz questions address potential differences between universities and professors?
Dr. Klupiec: Any differences in quizzing are mostly a matter of personal style. Multiple choice questions are pretty universal, but the way you structure the question, correct answer, and number of distractors can vary greatly between professors.
Dr. Clark: When I have reviewed questions written by the other anatomists on our team, I have often found them to be similar to those I have written or something I think would be great to ask in the future. I think this helps enforce the global nature of what we teach.
Dr. Klupiec: Ultimately you want the question to be clear, and you also want a little bit of variety so that students don't fall into a rhythm. Each question should create fresh thinking. Multiple choice questions have the risk of becoming formulaic, so a little variety in styles can actually be a good thing.
Dr. Clark: With three of us writing quizzes, there is bound to be some variety in the questions. This is beneficial to students because it causes them to think in different ways.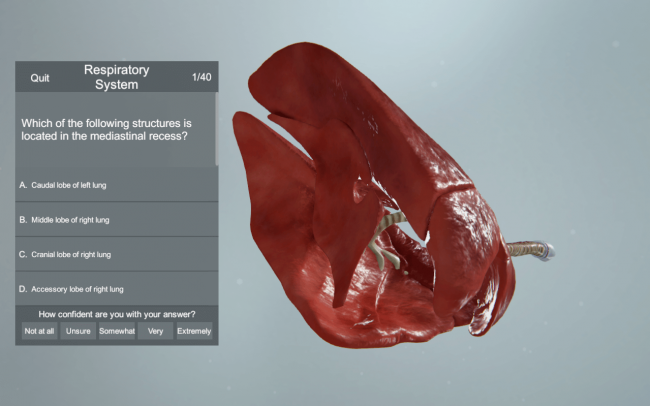 How would you compare EasyAnatomy's Quizzing, to that of traditional textbooks or in-class quiz questions?
Dr. Klupiec: EasyAnatomy's quizzing is heavily influenced by what is visible in the app. Often students don't have visual references when answering multiple choice questions, but in EasyAnatomy they always do.
Dr. Clark: When students can actually see the structure they are being quizzed on it causes them to think differently while answering the question. This helps to reinforce their learnings.
Are there any additional aspects of EasyAnatomy's Quizzing that you find particularly interesting?
Dr. Dawson: EasyAnatomy quizzes use the software's features to make the quizzing experience individualized and dynamic.  Each question has more possible choices than the user sees — you may see the same question more than once, but with different choices for answers each time.  
Dr. Klupiec: One of the strengths of EasyAnatomy's quizzing is that because each time students see a question it comes with a varied set of possible answers, they get additional opportunities to assess themselves on the same material.
Dr. Dawson: Feedback is important for building an understanding of the material, and users get an explanation of why each answer is right or wrong.
Dr. Klupiec: Writing these questions is making me a better anatomist! There is a lot of discipline that goes into making sure all the elements link up when writing EasyAnatomy's quiz questions – it's a real challenge.
– – – – – – –
Keep an eye out over coming weeks for more in the Professor Insights series, along with plenty of other content, and be sure to check out the previous posts in the series on Nomenclature and Fresh Perspectives.
Get a free bundle of quizzes anytime you unlock a new system layer in EasyAnatomy, or, get the entire EasyAnatomy quiz library at your disposal when you upgrade to an All Access Pass!