The complete canine nervous, circulatory, and lymphatic systems are now complete, and available to study and explore in EasyAnatomy!
To learn more about this update, and find out how to get access yourself, please read the following announcement note from our proud co-founders – Charles and Kevin (pictured below, to help you put faces to the voices).
---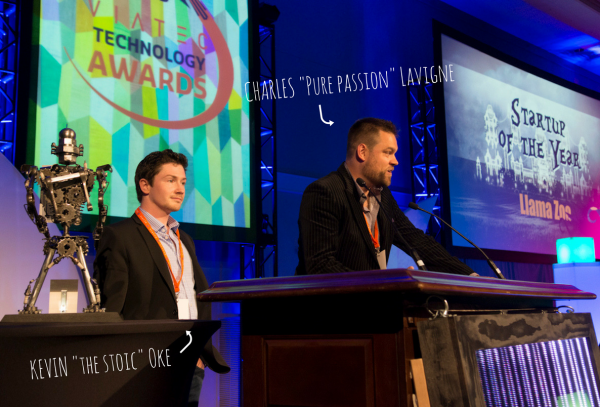 Hi everyone,
This is Charles & Kevin from LlamaZOO & EasyAnatomy. We're writing on behalf of ourselves, and our entire team of llamas, to share our biggest announcement since last summer's pre-launch.
The Update
You've probably heard rumblings that the completed canine circulatory & nervous systems are coming soon, and perhaps (as many have told us) you've been itching for them to be ready yourself. Well, with great excitement, pride, anticipation, and relief after much sweat and tears, we are happy to announce that both systems are now ready and available to you! In fact we even went a bit further, and added the complete lymphatic system too.
To complement these new systems, our anatomist team has also created brand new labels and descriptions (plus new quizzes on their way), to ensure that EasyAnatomy continues to provide the complete toolset you need to learn.
How to Download the Update
If you're already using EasyAnatomy on a regular basis, you will receive a prompt to download this update next time you go to login. Simply follow the outlined steps, and these updates will be yours!
In case you're new to EasyAnatomy, or wanting to get it on a new/additional device, please use that device to go to our new website, and click "Download" in the top menu.
Make sure that you're sitting down the first time you check out these new systems, because we promise you will be blown away.
– – –
We hope that you'll enjoy exploring these new systems, and don't hesitate to share your first impressions – we are eager and waiting to hear what you think. Please share your thoughts and questions to
support@llamazoo.com
, or tweet them to us
@LlamaZOO
.
Here's to an exciting future!
Charles Lavigne and Kevin Oke
Co-Founders, LlamaZOO Interactive
---